About Us
Train NEK offers SOLO-certifying Rural and Backcountry Medicine courses including Wilderness First Aid, Wilderness First Responder, First Aid and CPR – helping outdoor professionals and rural enthusiasts alike more fully enjoy Vermont's Northeast Kingdom outdoors. You can take courses at our outdoor classroom here in Peacham, or we can come to you.
At Train NEK, we want as many people as possible to feel empowered and knowledgeable in responding to illness and injury in their rural and outdoor communities. All are welcome here. We offer no-cost, drop-in CPR refresher sessions at area farmer's markets and have always let Northeast Kingdom residents audit any of our courses for free. We try to make your experience with us both fun and easy because as you know, life can be hard.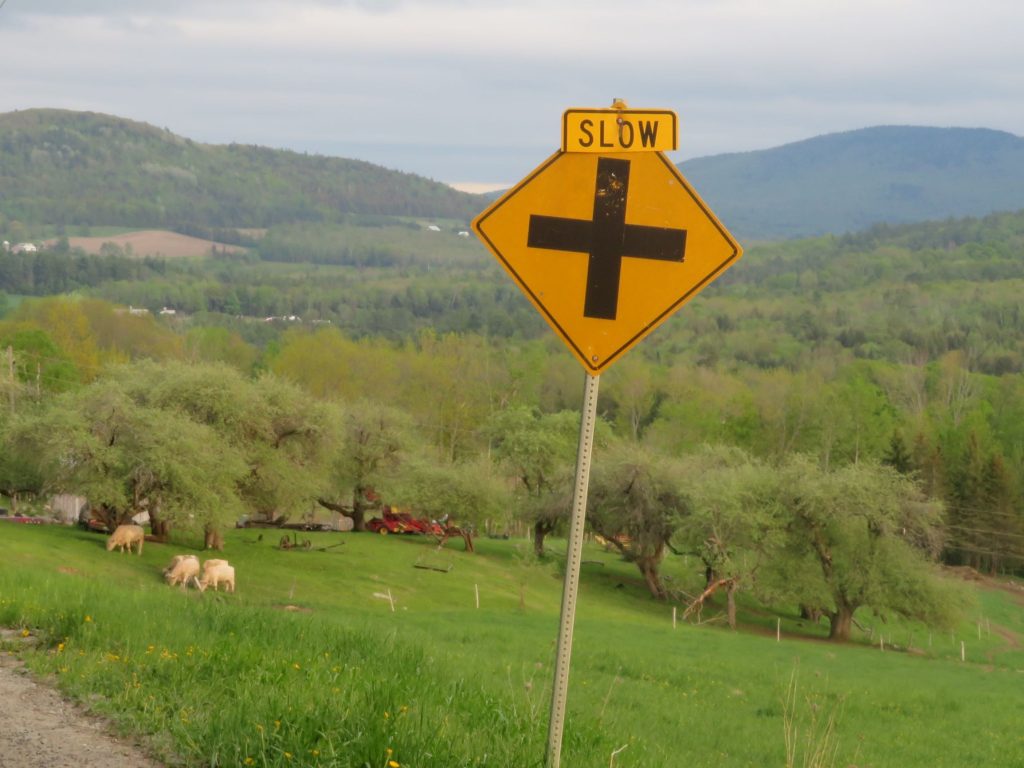 We value the solace of nature, the power of empathy, and the creativity that stems from collaboration. We think the best humor comes from listening, the most fun comes through inclusiveness, and that good times require kicking back away from the screens now and then. We love the NEK because it is full of opportunities to do just that, through community events, outdoor vistas, artistic venues, microbreweries, bookstores, mountain bike trails, and so much more.
Train NEK was founded by Andrea Kane, Lead SOLO Instructor since 1999, to provide engaging instruction, personalized attention, and local convenience while promoting responsible use of our natural resources and collaborating with others in and around the Northeast Kingdom's outdoor industry.
Contact Us
Web: trainnek.com
Text or Call: 802-522-0769
Email: Info at TrainNEK dot com
Mailing Address: PO Box 132, Peacham, VT 05862-0132
Courses are held at our outdoor classroom in Peacham, Vermont and at host sites around the state.
Instructor Bios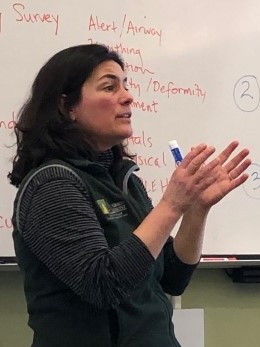 Andrea Kane
Andrea grew up in Sutton, Vermont three miles from Lake Willoughby and has been involved in emergency response for over two decades, from Wilderness First Responder to Emergency Medical Technician to Advanced Wilderness EMT, earning numerous certifications including Pediatric Emergency Prehospital Provider, Prehospital Trauma Life Support, and Ice Rescue Technician. She was Crew Chief and Training Coordinator for Vergennes Rescue, served on the UVM Medical Center's ED Quality Improvement Team, and provided emergency relief around Vermont following Tropical Storm Irene and in Texas following Hurricane Ike. Since 1999, she has been a Lead Instructor at the SOLO School of Wilderness Medicine teaching individuals how to respond to emergencies with limited resources. For four years as an Advanced EMT, Andrea taught EMTs through UVM's Initiative for Rural EMS including Middlebury College's intensive three-week-long EMT courses. She was Director of Outdoor Pursuits at Simon's Rock College, ran the UVM Adventure Ropes Course, built and paddled kayaks with youth at the Lake Champlain Maritime Museum, and helped develop and directed the Northlands Job Corps Leadership Program. She is passionate about encouraging stewardship of our natural resources, access for all to outdoor pursuits, and prepared, informed enjoyment of the outdoors. Andrea lives in Peacham with her partner and two children, where she volunteers as a Corporator for Northeastern Vermont Regional Hospital, as an EMT with Peacham Volunteer Fire Department, and as a member of Sterling College's Medical Advisory Board, the Green Mountain Club's Northeast Kingdom Division, and the VT State EMS 2022 Protocol Work Group.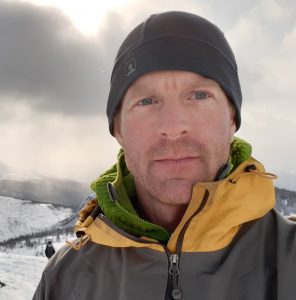 Jeff Lane
Jeff Lane is a Wilderness EMT with over twenty years experience teaching in the outdoors. Living in Peacham, Vermont, he works with the Peacham Fire Department as a volunteer EMT and at Burke Mountain ski area as a volunteer patroller, and also works as an avalanche instructor through the winter. Prior to moving to Vermont, Jeff lived in Conway, NH where he worked as a Snow Ranger in the White Mountain National Forest, doing avalanche forecasting and search and rescue. He has a graduate degree in Outdoor Education from the University of New Hampshire.
Katherine Siner
Katherine G. Siner joined our team in 2019. She is a local native of the Northeast Kingdom, taking her first turns as a kid on Burke Mountain. The love for big mountains and open landscapes brought her to Montana, where she became a WEMT. She spent years working for the Appalachian Mountain Club in NH in their huts department, volunteering on their mountain search and rescue team. After working as a commercial fisherwoman in Bristol Bay Alaska, Katherine was a National Ski Patroller. She holds a degree in nursing and sustainable agriculture. In the summer you can find her gardening at her farm in Peacham or waterskiing with her two daughters.  She is a pediatric/school nurse full time. She also works as a Labor & Delivery nurse.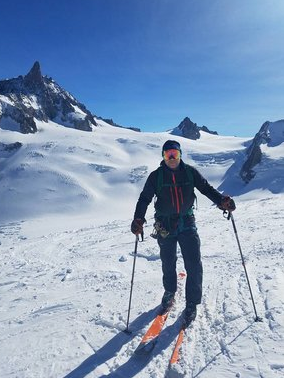 Bob Giolito
Bob Giolito is the founding member of Killington Mountain Guides, LLC. He is a licensed New York State Guide for rock & ice climbing, a certified AMGA Single Pitch Instructor for rock climbing, a certified NASAR (National Association for Search and Rescue) MLPI instructor, and has completed the SOLO Wilderness Medicine Instructor Training. Bob holds certifications in A.I.A.R.E – 1 & Avalanche Rescue and is a National Registry EMT and SOLO Wilderness EMT. He is also a DPS Ski Ambassador, Revo pro, and is a Pro-Staff Skier for Base Camp Outfitters in Killington, Vermont. Bob holds a B.S. in Wilderness Based Outdoor Recreation Leadership from Unity College. Since beginning mountaineering at a young age, Bob has garnered extensive experience including climbing Wyoming's three highest peaks in a month, accomplishing multiple first ascents, and taking trips across the United States including the Grand Canyon, Red Rocks, Absaroka Range, and Acadia National Park. Bob instructed Extra Technical Mountaineering Courses for the Colorado Outward Bound School, worked as a professional Killington Ski Patroller, and spent 10 years as a State Trooper on the Vermont State Police Search and Rescue Team, with 7 years assigned to the Canine Unit. In 2008, he received "Canine Tracking Team of the Year " with K9 Mitch from the Vermont Police Canine Association. Bob was awarded a Life Saving Award from former Vermont Governor Jim Douglas for pulling a woman to safety from a burning car. Bob co-founded Killington Search and Rescue, a volunteer search and rescue team based out of Killington, Vermont.