Host a Course
Want a private course for your group? Need a different location or dates than you see listed? Consider hosting your own course!
Hosting a course at your site helps you engage with employees or the public in a new and fun manner, offers an enriching bonding experience for your team, adds value to the region by increasing the number of trained individuals nearby, and lets others know you are invested in your community.
How do I Host a Course through Train NEK?
What? Learn about the different courses we teach to decide which course suits your needs.
Where?  Decide on (and secure) a location. We'll need a classroom or meeting area (preferably a covered outdoor space, as weather allows) with enough room for practical sessions. Each pair or trio of students will need their own 9′ x 9′ space/station, and class size will be limited based on current Vermont guidelines. Even if class will be held indoors (with lots of windows and doors for ventilation), we'll need an outdoor area for practical scenarios. It saves transition time if the indoor classroom is at ground level, with easy access to the outdoor space. We don't need tables, but we do need sufficient seating, parking, and restrooms with soap and running water.
Who? Your course can either be open to the public, or private to meet the needs of your group. From May through October, the minimum number of students required for an offsite course is ten. From November through April, the minimum is six.
When? During our off-season you can generally choose dates that will work well for your target audience. For courses May through October, your best bet is to let us know by December of the prior year before our schedule is out – or at least as early in the season as you can.
How? Option One: Collect payment from the minimum number of students, then mail it to us to reserve your dates. Option Two: We can set up online registration for your course if people need to pay by credit or debit – although this method does cost each person extra. Option Three: We can hold your dates with a purchase order; just let us know the contact info for who we should direct the invoice to.
How Much? Prices are provided in each course listing. There are no additional costs for courses held within one hour of Peacham. For courses further than one hour from Peacham, your group will need to provide or reimburse for lodging (no shared rooms or bathrooms), meals ($40/day) and mileage (sixty cents per mile).
Then What? If your course is open to the public, you'll want to promote your course. The course will also be listed on the Train NEK and SOLO websites. If your course is closed to the public, you'll just need to communicate the details to your group.
Contact us to schedule your course: (802) 522-0769 or info@trainnek.com.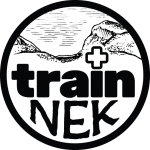 © Train NEK | Wilderness Medicine 2020