Register by Mail or Online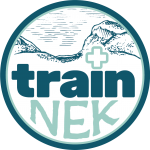 So easy! To register by mail using a check or money order:
Find the course you want at our "Upcoming" page. Then send us a note with the course title, start date, student's name and email address with a check or money order* for the complete amount to "Train NEK", PO Box 132, Peacham, VT 05862. We'll email you to confirm your registration was received. You can ALWAYS call or email us first to ask that we hold your spot!
*What's a Money Order? It's a form of paper payment that works just like cash except it can't be stolen. You purchase a money order using cash or debit card for a nominal fee from the USPS, a bank, or certain retail or grocery stores. Then you mail it like a check. The fee to purchase one at a post office is $1.45 for up to $500 or $1.95 for orders between $500.01 and $1,000. They can cost as little as $1 from retailers or as much as $5 at a retail bank. But, it's a LOT cheaper than the 5% or more Eventbrite charges. And you can track a money order to ensure it arrives safely.
Or, to register online using plastic:
Check out our Eventbrite page with all upcoming courses if you want to use a debit or credit card (additional Eventbrite fee applies). NOTE: Although Train NEK has a no-questions-asked refund policy, Eventbrite does not generally refund their online registration fee if you cancel – so we recommend sending a check if your plans are uncertain.
Thank you!